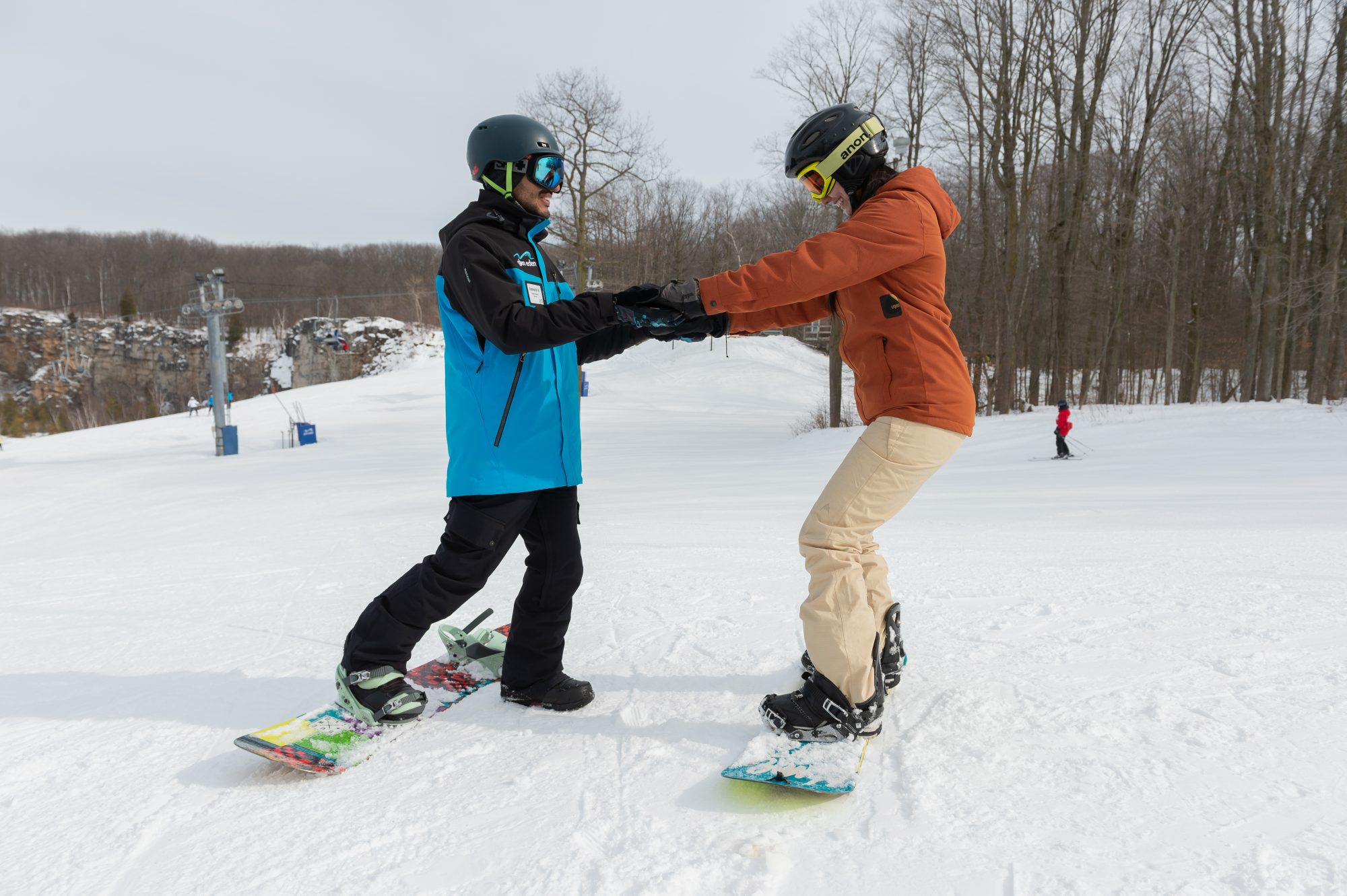 Private lessons allow you to select a day and time to focus on your ski or snowboard lesson, with one-on-one instruction that is catered to your learning needs and skill level. This concentrated instruction allows you to work on your technique and improve your ski or snowboard skills at an accelerated pace.
Take a private lesson with one of our knowledgeable CSIA/CASI certified instructors. Private lessons offer 1 on 1 attention and are catered specifically to your needs. A great option for those new to the sport or looking to improve their skiing or snowboarding to get the most out of their winter!
*Single Lesson Private lessons are available in limited quantities, if the reservation site indicates that they are not available it means we are sold out for the day.  Lessons will be available 10 days in advance for Season Passholders and 5 days in advance for visitors. Please note these quantities are updated daily. Check back often for availability.
Please note all private lessons need to be booked in advance on www.winterpass.ca when reserving your ticket. Lesson availability can only be seen once your ticket is selected.
Ages: All
Ability Levels: All
Lesson Duration: 1-hour
Average Ratio: 1:1
**Please Note** Additional participants should be of the same age and ability.
| | |
| --- | --- |
| Participant | Price |
| First Participant | $119 |
| Additional Participant (Up to 3 Additional) | $69 Per Additional Participant |
Private lesson programs allow you to select the day and time of your ski or snowboard lesson, with one-on-one instruction that is catered to your needs throughout the season. You can select from either a weekly program (same day and time each week) or a camp option over the Winter or March Break.
Ages: All
Ability Levels: All
Lesson Duration: 1 hour
Average Ratio: 1:1
2023-2024 Rates
| | | | | | |
| --- | --- | --- | --- | --- | --- |
| | Early Bird Price | Pre-Season Price | Regular Price | | |
| 5 Day Winter Break Camp Program | $459 | $551 | $662 | | |
| 5 Day Winter Break Camp Program – Additional Participant | $249 | $299 | $359 | | |
| 8 Week Program | $709 | $851 | $1,022 | | |
| 8 Week – Add Participant | $369 | $443 | $532 | | |
| 5 Day March Break Camp Program | $459 | $551 | $662 | | |
| 5 Day  March Break Camp Program – Additional Participant | $249 | $299 | $359 | | |